2022 Sep 20
Buy now Pay later at Dubaiprint.com With Tabby
You've just found the perfect banner to catch your customers' attention and even have customized it with your favorite image, but your bank balance is looking woeful. What do you do?
If you were not lucky, you'd have had no choice but to buy it and dive into your overdraft. Not with Dubaiprint.com!
Dubaiprint.com is here to help you get your product in a quite affordable manner. We offer a payment method called Tabby in UAE that works with the "Buy now pay later" logic. It means that you can shop at our store now and pay for them later. Can you imagine?
More precisely, Tabby provides a payment option – Pay In Installments. This means you will have to pay an initial amount before checking out and to choose between 3 and 6 months for paying the rest.
Furthermore, with Tabby, you can buy now and pay later with ZERO interest.
Tabby is an unequaled option especially for those who need to make urgent purchases but don't have enough savings at the moment. Also, Tabby is true salvation for entrepreneurs who do not want their business to go down due to a lack of funds.
Let's dive into other pros of using Tabby as a payment method while shopping.
.
For registration on Tabby, you will need your ID and mobile number. Tabby is currently available only for UAE and Saudi Arabia users.
Here is how to use Tabby in details:
1. Add the products you like to your cart and go to checkout as usual.

2. Pay in installments during 3-6 months with Tabby.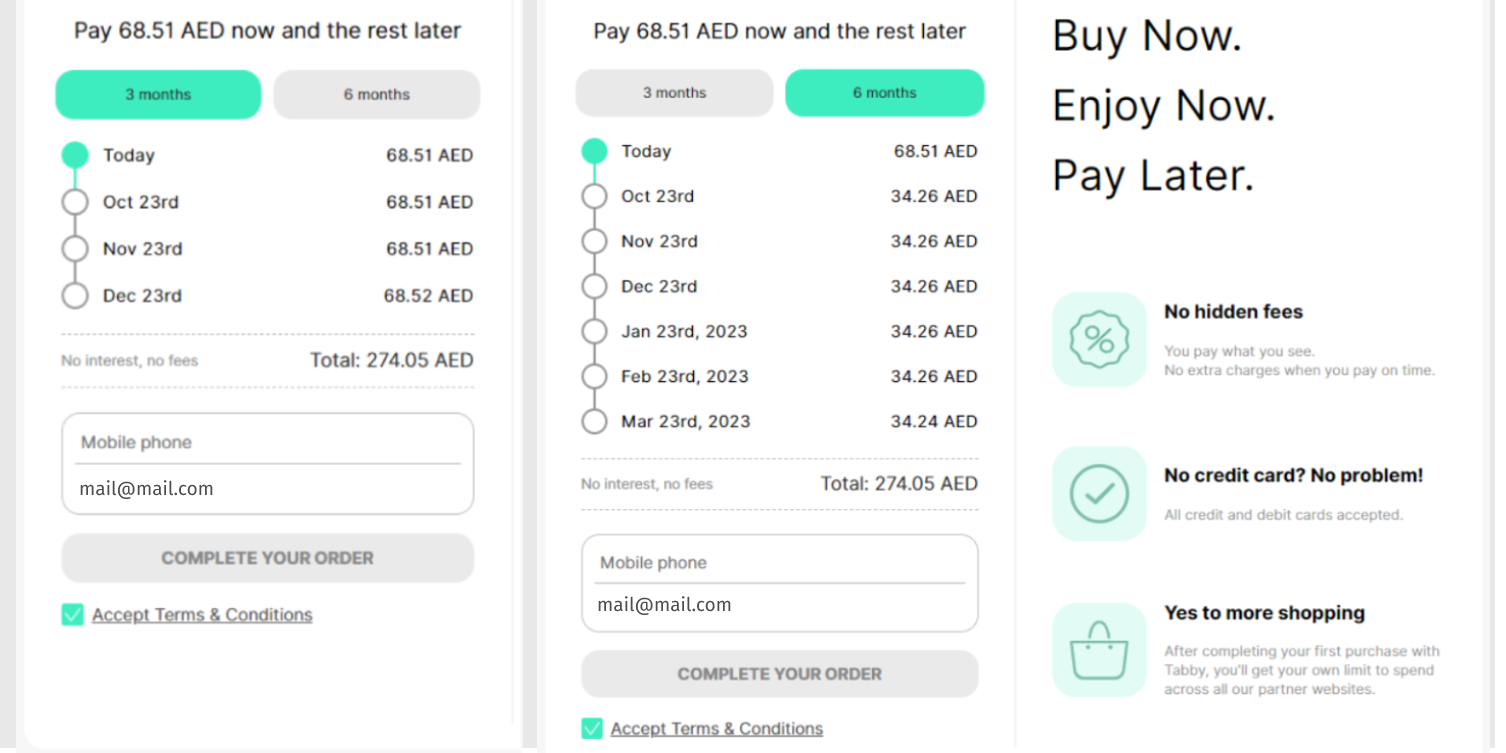 3. Place your order and you're done.
By the way, you need to be at least 18 years old and have a valid Emirates ID. Just select Tabby at checkout and it'll guide you through the process.
Long story short, Tabby's "Buy now, pay later" can work brilliantly when you need something urgently but don't have enough to hand, as long as you're confident you can make your repayment on time, of course.
Excited already? So let's jump to our store and get your favorite product as well and forget about the payment for some time!

Sign Up To Our Newsletter