2021 Jun 12
Personalized Father's Day Gifts For The Best Dad Ever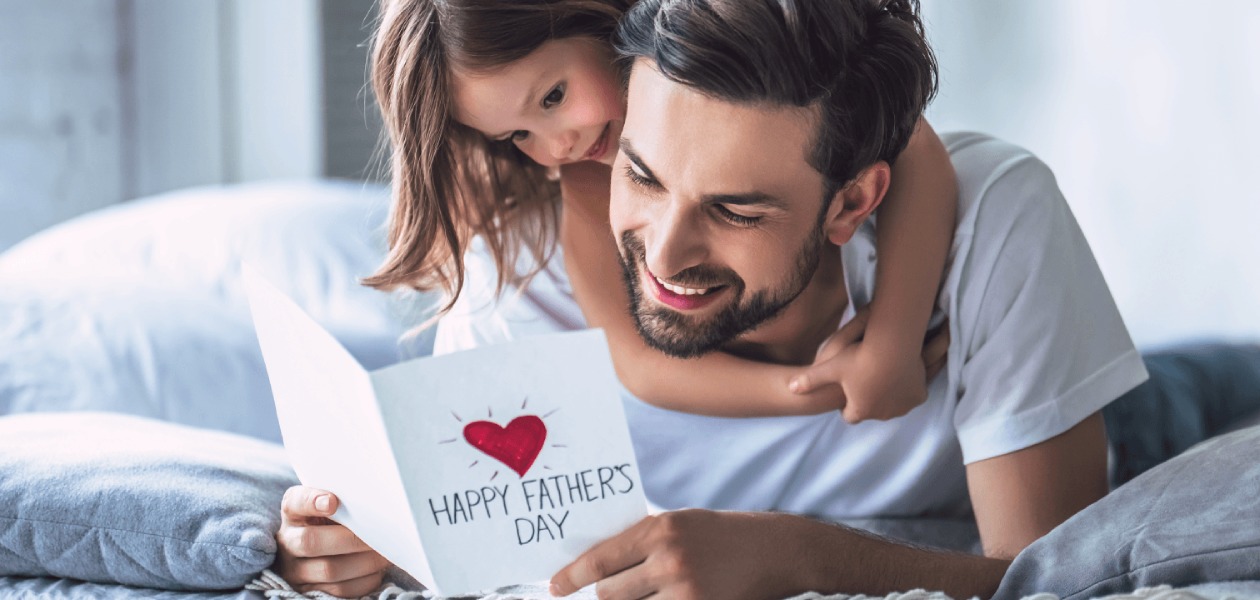 Let's be honest — from all the people you know, coming up with a cool present for your dad is probably the hardest. A wine opener, wallet, expensive perfume, or a set of quirky socks — chances are you have tried them all… Maybe even multiple times. But with a father's day on its way, you probably want to show how much you appreciate your dad by gifting something useful, meaningful, and lasting… Sounds like a mission impossible, doesn't it? Well, not with personalized father's day gifts.
When you think personalized gift, you might think something uncomfortable like a necklace with 'I love my dad.' It is a great present; we get it. But it will probably end up in the corner of the shelve, because of how impractical it is. But all personalized gifts were not created equal. Some of them can be not only cute and one-of-a-kind but also incredibly useful.
So here is our list of practical, lasting, and creative personalized father's day gifts that will make your (and any) father go 'Wow!'
Personalized Photo Books
The best thing about personalized books is that they are, well personalized, and you can turn them into anything you want. Do you want to tell a story about how awesome your dad is? Do you want to remind him of the memories you have made together? You can do all of that.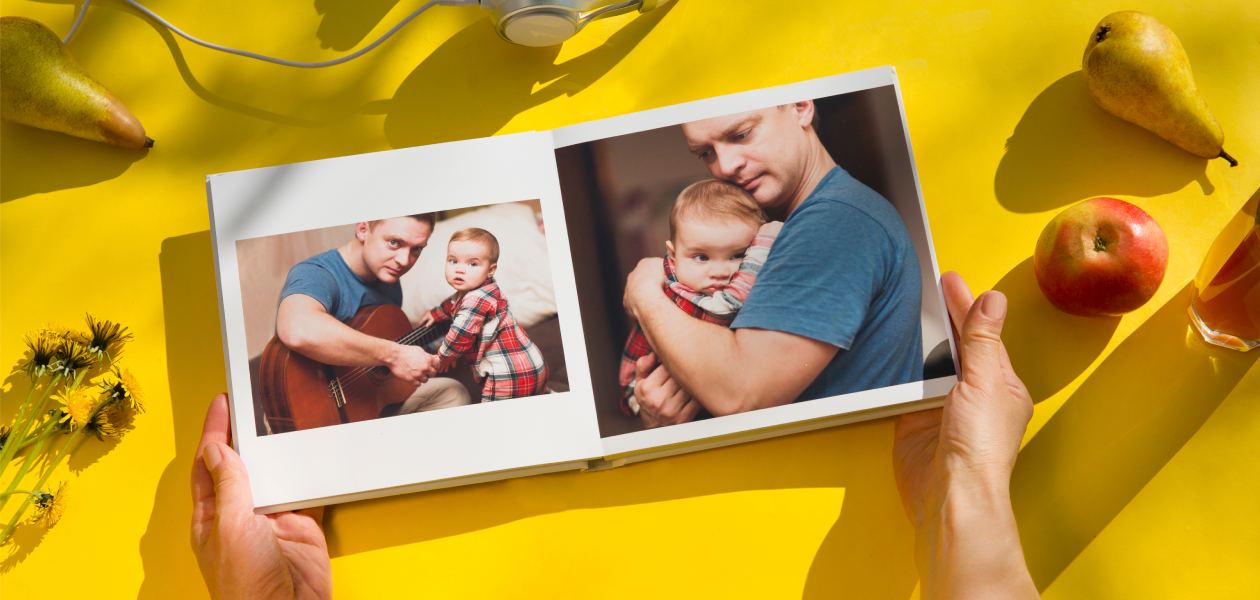 We know your father means a lot to you and that you probably rarely get a chance to express that love. Personalized photo books can help communicate your feelings. Yes, it is a little sentimental. But that is the reason the present is topping our list. It ticks all the boxes for a cool personalized father's day gifts.
Who does not love having a physical reminder of sweet and slightly embarrassing memories? Especially when those memories are some of the best.
Mugs and Cups, because you can never have enough
The cups and mugs are a classy present choice. And as the old wisdom goes, you cannot have too many mugs. We wholeheartedly believe it to be true. Mugs are practical, creative, and lasting. In other words, they are everything we look for in the present.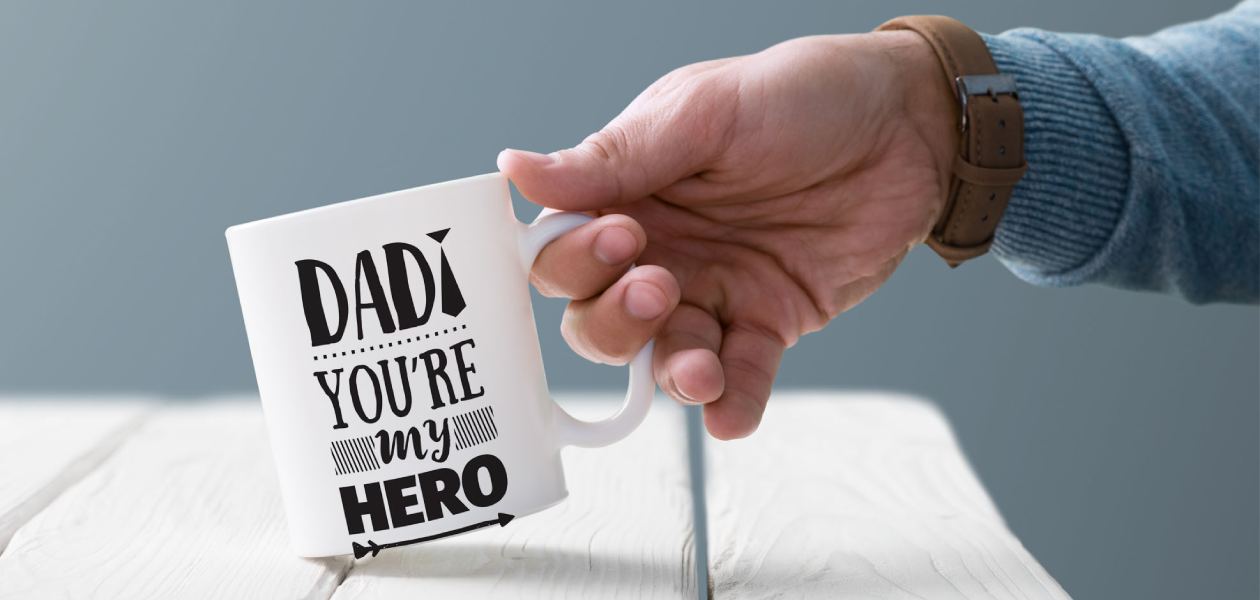 Yes, you can use the mug to print the images you have made together. But if that is not your dad's cup of tea (pun intended) you can always customize it with images of his favorite band, TV show, or sports team. If your dad has a sense of humor you admired from childhood, use the occasion to highlight it. With the variety of funny images, you can find online; you will find one that will do your father justice.
And if you want to go an extra mile, look into magic mugs — the one that changes its color. It will help add a special touch to the present.
Coasters
Now, when you have already looked into mugs, it is time to think about coasters — the personalized father's day gift we think deserves more attention. It will make a perfect addition to the cup set or work as a small gift on its own. Personalized coasters allow you to be creative with that cool item, which only makes it all better.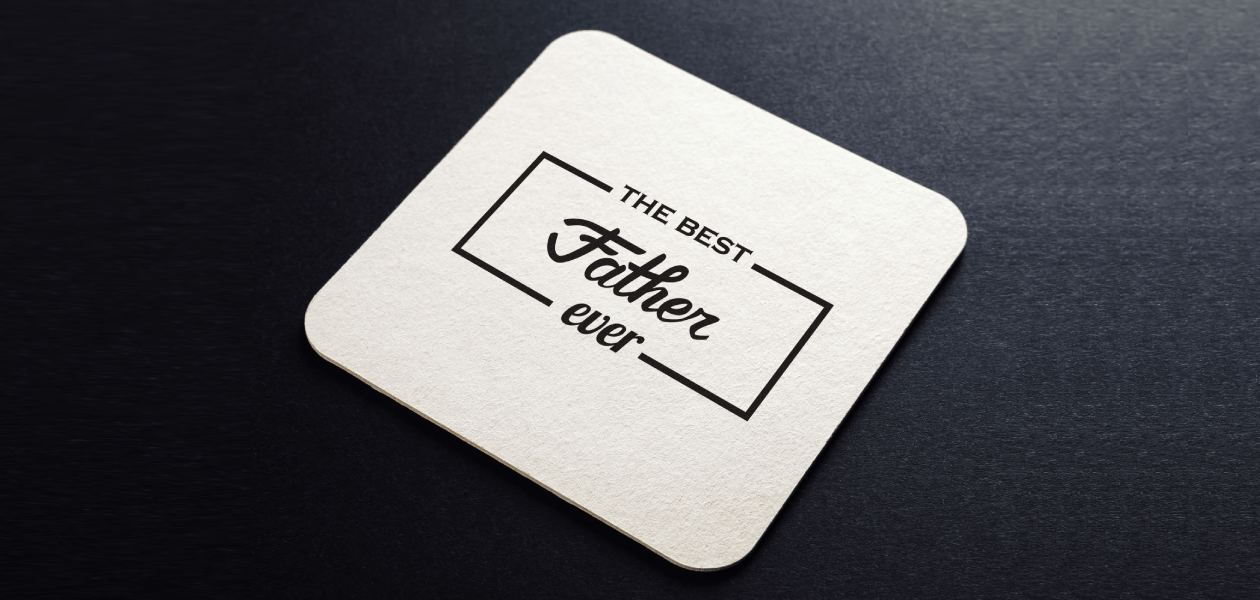 Create a cool collage, use difficult to find a pattern, print an encouraging capture, or add your photographs and the images to the coaster. It is a small but meaningful present that will gain a special place in your father's heart. People find custom-made coasters to be touching — which only proves you do not need to rob a bank to gift a great present.
Water Bottles
Is attending gym an essential part of your dad's routine? Or, maybe he just hits the roads and takes a run outside? In both cases, he is definitely going to need a high-quality and sustainable water bottle!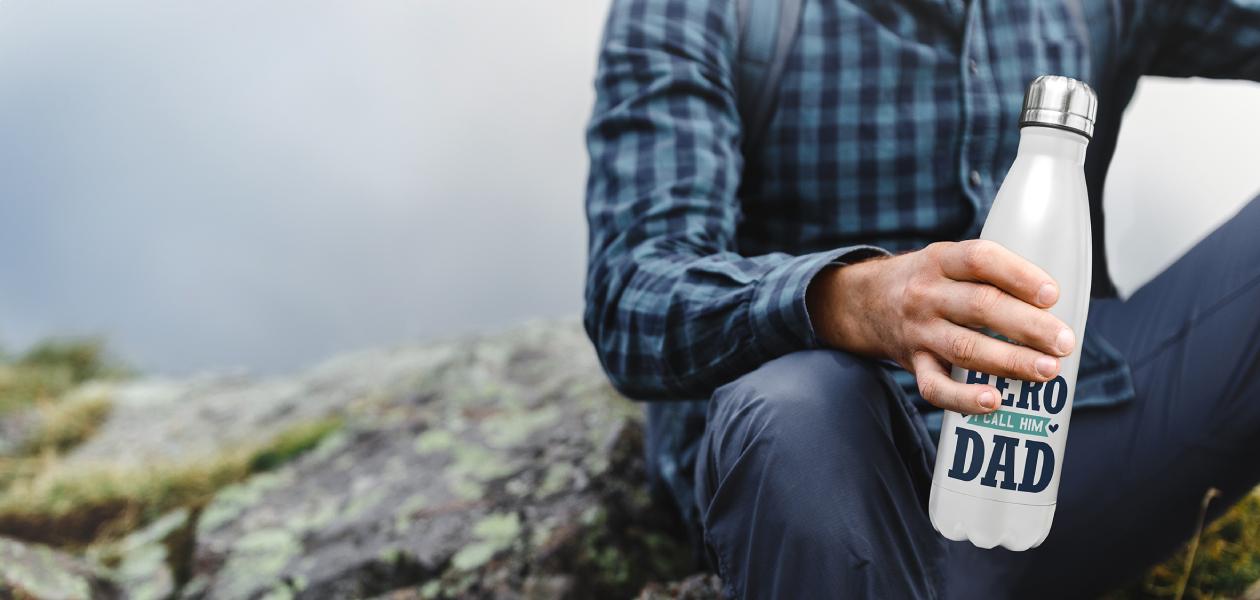 Most importantly, there is no other practical gift like customizable water bottles. Especially, when your father does sports, giving him a personalized water bottle, will be really motivating and inspiring. Imagine, having the bottle customized with your father's life motto, if he has one, or with the cutest minimalistic elements, you associate with your father. This is a really thoughtful option.
Custom Awards (because the world needs to know your father is awesome)
The next one present in our list of personalized father's day gifts is custom-made awards and prizes. You probably think to yourself that your dad is the best. We bet, he is an awesome cook, the best advice-giver, the coolest rider, or just an incredible human being that has been inspiring you since the beginning. We are also sure you do not tell them often what they mean to you.
The International Father's Day is the best time to change that. You can use the occasion to acknowledge the influence he has had on your life and show him you deeply appreciate what he has done for you. Yes, it is a little cheesy; we get it. But isn't it the best day to get all cheesy?
So, do not hold back and express your gratitude to the fullest extent. Reveal what you have wanted to say with a custom award and show your father how important he is to you. Because — let all admit it — it is a petty we appreciate our career-related achievements more than we do everyday ones, even though they are equally if not more valuable.
Custom T-shirts
If it is not your first time on Dubaiprint.com, you have probably seen this coming. But, yes, we can't help — we think customized T-shirts are amongst the most practical personalized gifts. It is both fun, cool, and functional. T-shirts are one of those presents you know will never disappoint. Think of yourself — you would have probably enjoyed receiving a T-shirt with a cute image too. And our dads are often no different.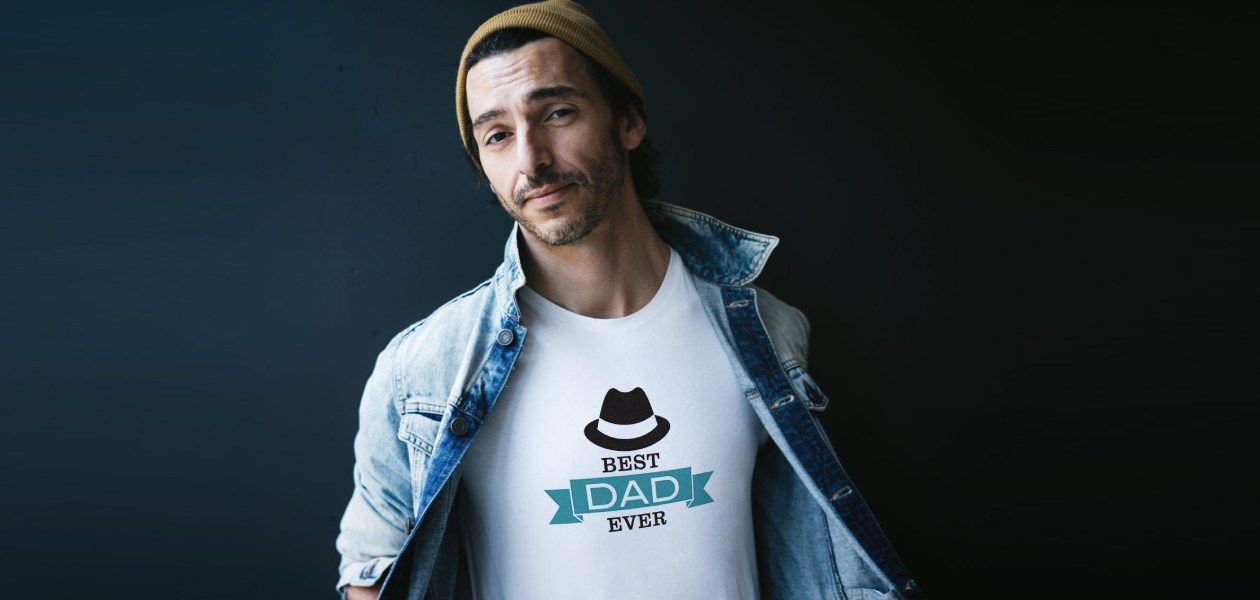 If you do not want to design one, you can snag our "Best Dad Ever 1" and "Best Dad Ever 2" which we have created for occasions like this. Just make sure you the size is right, and here we go — you have got your dad one of the best-personalized father's day gifts.
One-of-a-kind Canvas Painting
Now, let's move on to the present for dads who love artsy things. If your father appreciates art, he will enjoy getting a copy of Van Gogh's painting in the house. But you need not rob the Van Gogh Museum to make it happen. Canvas paintings often look just as good as the originals. It will not only impress your dad but anyone who drops by the house, office, etc.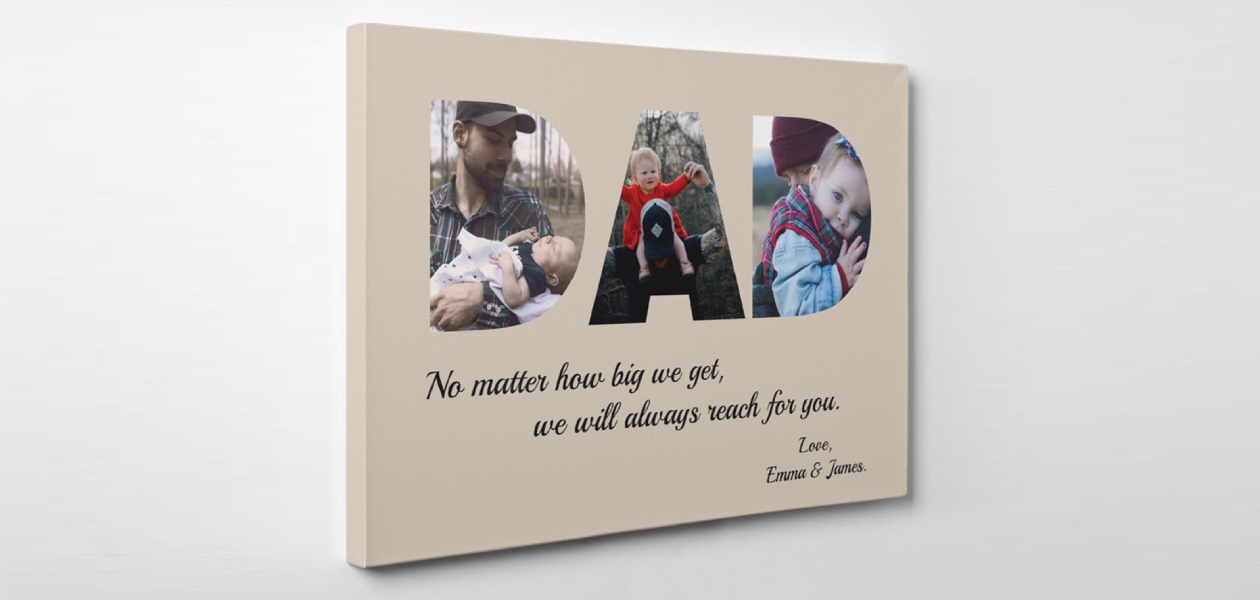 If you do not want to gift him a copy of a painting, you can always think of something else. You can print his favorite photographs or even a photo he made himself and is very proud of. It is a touching and thoughtful present that will linger in his heart. But probably the best thing about the present is that it is just like 'a canvas' in a metaphorical sense — it is THE canvas. That means you can turn it into anything you want — the only border here is your creativity.
Print any image, photo, or painting on a fancy surface
Printing a photo is a little old-fashioned we get it. That is why print an image, writing, or photograph on a something cooler — on a wooden, metal, or MDF surface. Probably the best thing about them is that they give a cool quality to existing images. It is one of the great personalized father's day gifts we think works for almost anyone.
They are small, convenient, and can be placed anywhere. They will make any room feel more welcoming and charming, and isn't it the ultimate dream? From personal experience, we say that the images printed on those surfaces look very elegant. You will not believe how many times we received compliments about the aluminum photo panel we have on our desk.
Personalize Aprons (in case your dad happens to be the best chef!)
Do you consider your dad being the best chef, like, ever? Well, his profession doesn't necessarily have to be a cook, to make him a good one, does it? If your family gatherings or parties aren't perfect without your dad grilling then personalized kitchen aprons will be an awesome gift option.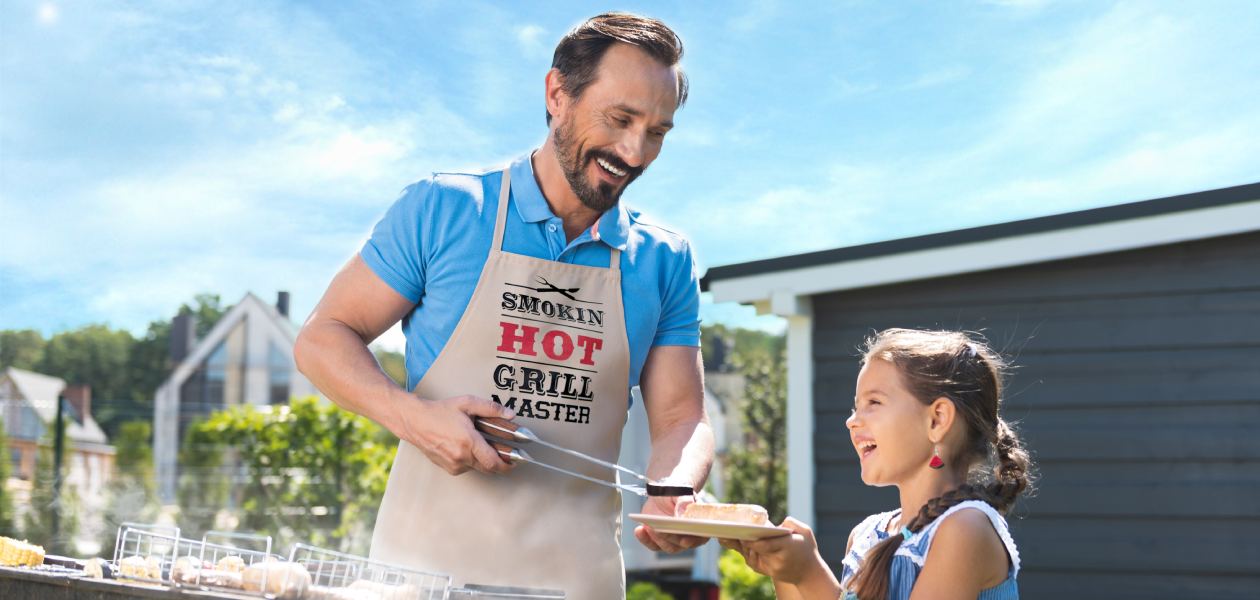 Adding some personal touch on an apron for your dad makes it even cuter. Moreover, with this gift option, you are going to not only make him cook in style, but also keep his outfit always safe and clean.
Custom VR experience
If you feel your dad is not like other dads – he enjoys playing games and exploring new just as much as you do — then personalized VR headset is what you need. Yes, virtual headsets in all shape and form are cool, but customizing them is not easy. They are also much more expensive and take a lot of time to get into, so a cardboard alternative is a great starting point.
There is a lot of cool content available online that you and your dad can get into right away for free. It is going to be an enjoyable experience your dad will remember for a long time.
Puzzles
If your dad likes intellectual games, puzzles should be the personalized father's day gift idea of your choice. To make them not only fun but also touching, you can customize them with the image your dad will find meaningful.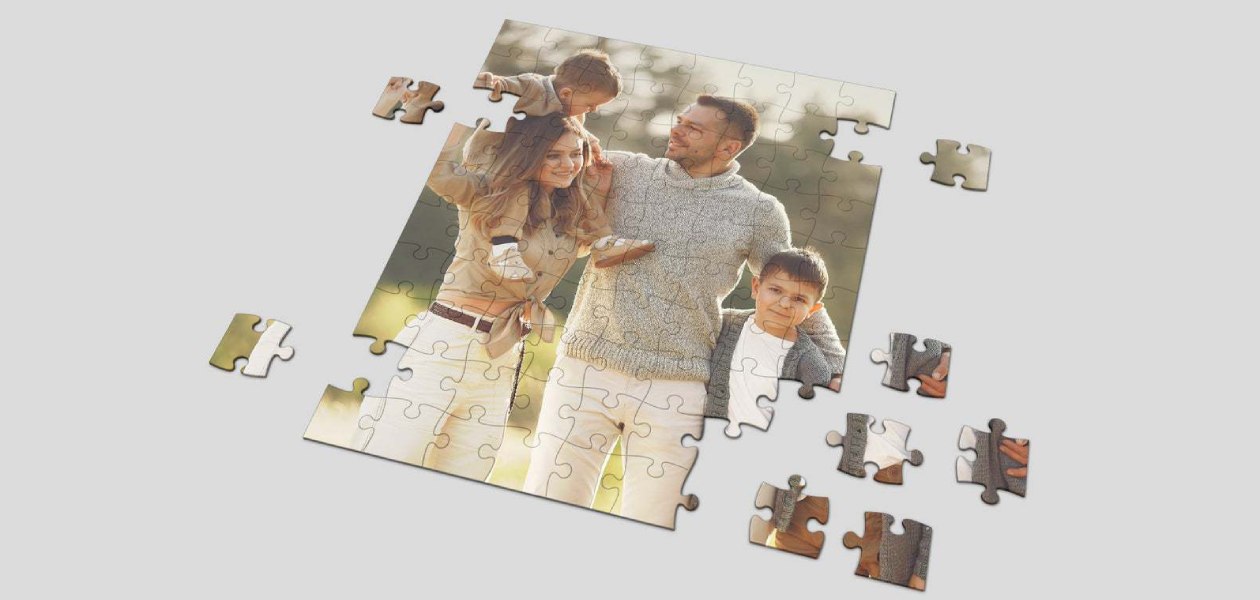 This present is definitely amongst our favorites because of how much joy it can give to you, your dad, and even your entire family. It is both fun and smart — we are sure, not unlike your dad. Make him happy by gifting him a present that shows you know him well.
D-Toy
Last but not least, in the personalized father's day gifts list from Dubaiprint.com are D-Toys. They are much like everyone's favorite lego toys — you need to assemble them before enjoying their beauty. D-toys might even be better because they are eco-friendly, customizable, and yes, very cute.
We often think the toys are for kids and kids only. But let's be frank here — sometimes grown up like them just as much. D-Toy is that perfect toy that is pretty enough to keep the kids interested and challenging enough to keep adults engaged.
Personalized father's day gifts or the best way to avoid a dissatisfied expression on your dad's face
So, here was our take on the personalized father's day gifts that will make them feel touched. And know very well it is no easy business. Gifting a present and seeing a face full of disapproval might be one of the least pleasant experiences in the world, especially when the giftee is your dad — the person you probably value and respect the most.
Personalized gifts help you avoid the trap. With them do not 'make' your dad like the present — you create a present that your dad will like. That adds an extra layer of meaning and care that will not go unnoticed.
Sign Up To Our Newsletter